Description
dogSunglasses or goggles for dogs aren't just a fashion accessory; in many situations, they can be a necessity. After all, we protect our own eyes from the elements, why wouldn't we do the same for our dogs?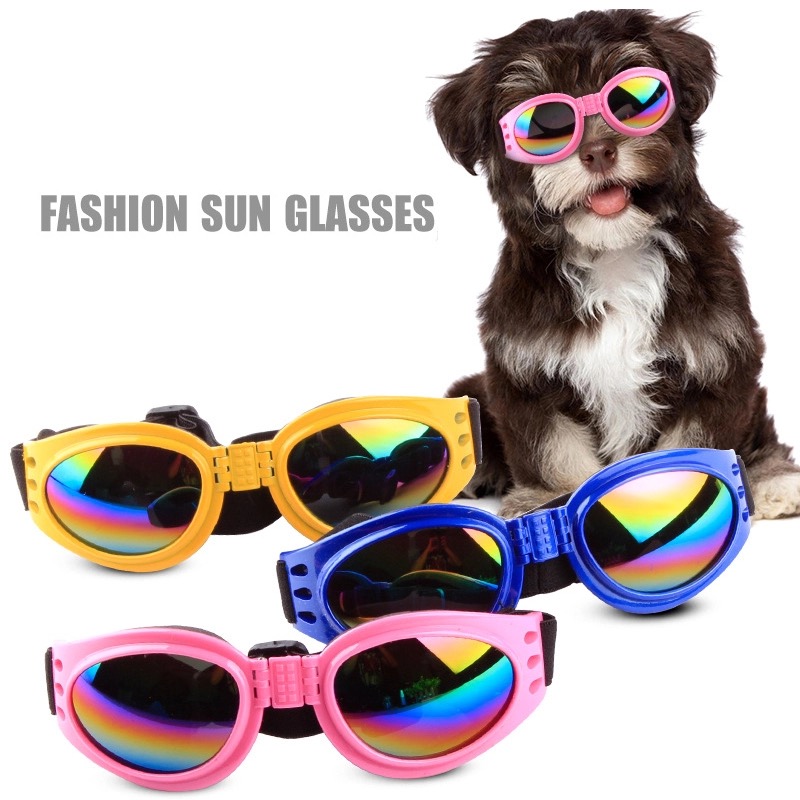 If your dog comes along for motorcycle or bike rides, sunglasses will protect him from wind, road debris, and bright sun. On the beach, dog sunglasses will keep sand out of his eyes, as well as shield his eyes when he swims. Dogs suffering from conjunctivitis, glaucoma, or other eye conditions may need sunglasses every time they go outside. They're even handy for dock diving and boating. In fact, any dog that likes to hang his head out the car window can benefit from snug-fitting sunglasses to minimize eye irritation. And, if you choose to use them as a fashion accessory, that's between you and your dog.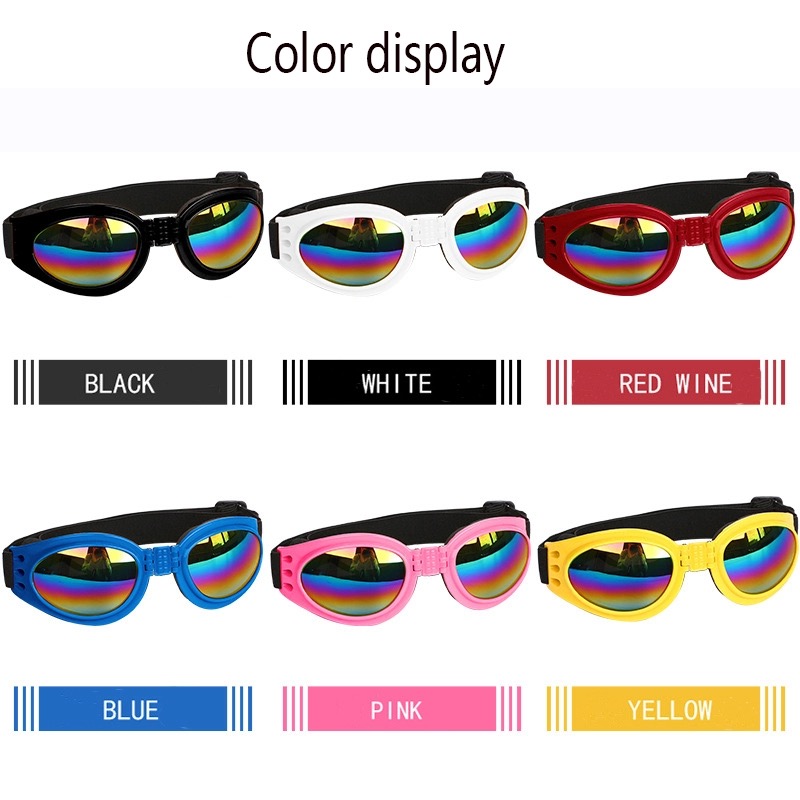 DogMEGA Foldable Dog Sunglasses UV Protection is made of high-quality plastic, with comfy fit with soft PVC sunglasses frame, adjustable chin, and head straps that snap in place snuggly on doggie head shapes and sizes. Widen nose bridge design Improve comfort; Frame Bottom has breathable holes, vents to prevent vapor and breathable. 100% UV protection and protecting your dog's eyes from wind, water, hard light, and fog. Ideal for everyday protection or outdoor sports.
Size Chart
Size Information
Weight: 50g
Lens Height: 33mm/1.3″
Lens Width: 50mm/1.96″
Lens Height with Frame: 50mm/1.96″
Lens Width with Frame: 80mm/3.15''
Glasses Frame Length: 170mm/6.69''
Head Elastic Adjustable: 240-410mm/9.45"-16.14"
Chin Elastic Adjustable: 190-310mm/7.48"-12.21"
(No tensile measurement)
Suitable for dogs with more than 7 kg (15 lbs), mini, super small pets are not suitable
Please kindly measure your pet's size before ordering.        
Specifications:
Color: Blue, White, Yellow, Black, Red, Pink
Material: Plastic
Feature: Foldable
Style: Cute
Suit for: Medium Dog, Large Dog. Suitable for dogs with more than 7 kg (15 lbs), mini, super small pets are not suitable
Dog breeds: Labrador Retriever, German Shepherd Dog, Golden Retriever, Boxer, Standard Poodle, Rottweiler, Doberman Pinscher, German Shorthaired Pointer, Siberian Husky, Australian Shepherd, Chinese Shar-Pei, Dalmatians, Alaskan Malamutes, Samoyeds, Portuguese water dogs, Bullmastiffs, Bloodhounds, St. Bernard, Akitas, Belgian Malinois, Chesapeake Bay retrievers, Rhodesian ridgebacks, Collies, Basset hounds, Newfoundlands, Mastiffs, Bernese Mountain dogs, Doberman pinschers, Great Danes, Siberian husky, Boxers, Rottweilers, Golden retrievers, German shepherd, Labrador Retrievers
Tag: dog goggles, pugs sunglasses, dog glasses, dog wearing sunglasses, dog goggles for car, pugs sunglasses price, dog motorcycle goggles, dog eye protection, pugs gear sunglasses